Quick guide to set up your Google ads account
Before you begin, please have your Google account and Business website prepared, you can choose to use your existing Gmail account or set up a new Gmail account.
1. Go to Sign Up Link here and click "Get Started"
2. Choose your Google account to sign up with.
3. You'll then be prompted to create a new campaign. On the Main Advertising Goal Step, scroll to the bottom and click "Switch to Expert Mode" (When you create an account in Expert Mode, you can do so without a campaign at the start.)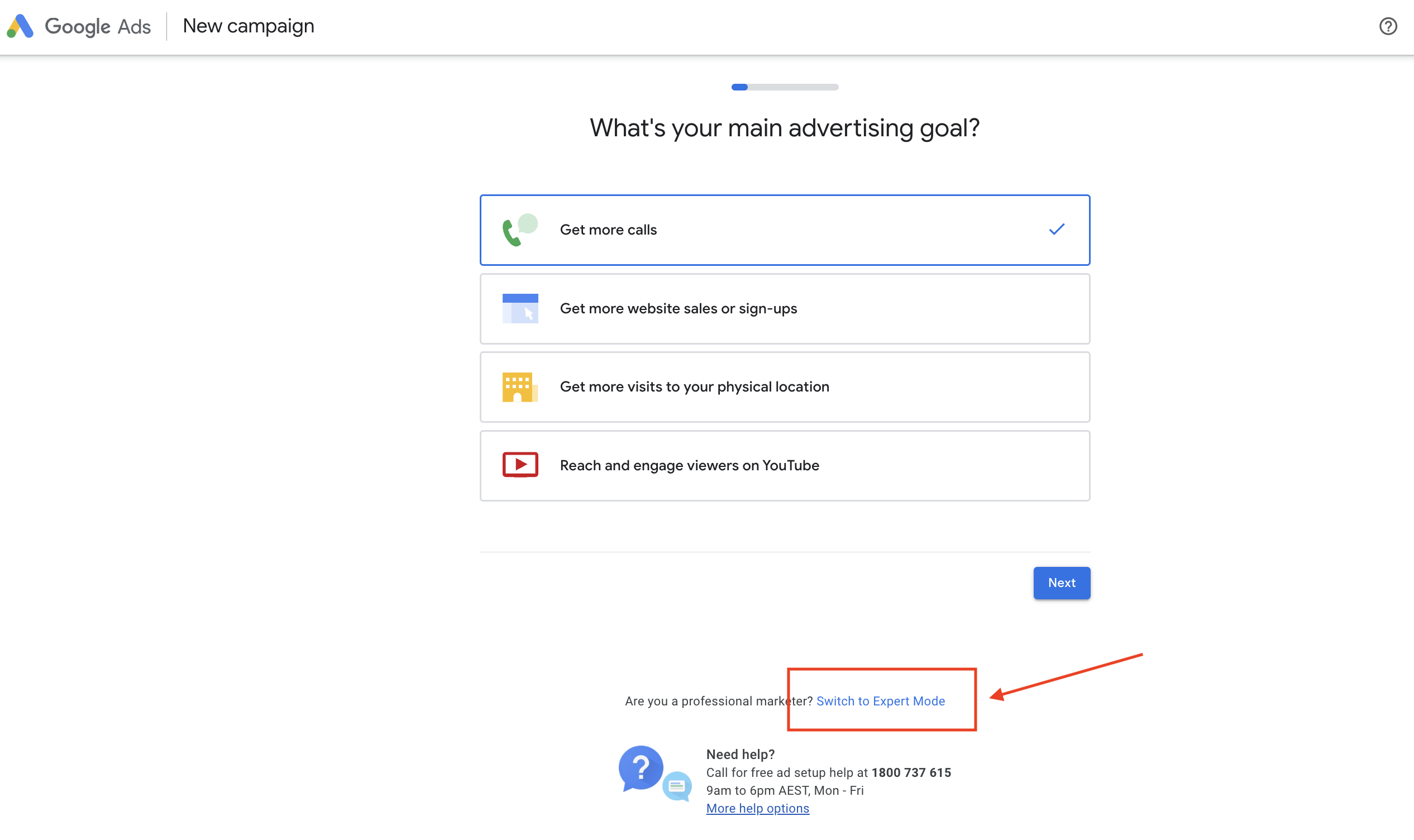 4. Then, click on "Create an account without a campaign" on the Objective setup step.
5. Finally, you are prompted to set up billing information by the following steps:
Click the "Billing country" drop-down menu and select the country or territory where your billing address is located. Your billing country determines the billing options that are available for your location and currency.
Make sure that the correct time zone is selected. If not, click the drop-down menu to change it. Your reports, statistics and billing are all affected by the time zone that you select, so choose carefully.
6. Click "Submit" to complete your account setup.
7. Click on "Explore Your Account" in the congrats screen to see your dashboard.
8. Go to top right menu bar, select the tool icon and then under 'Billing', select "Settings".

9. Set up the payment details.
You'll be prompted to either select an existing payment profile or create a new one. Your "Account type" defaults to "Organisation" but you can change to "Individual" if appropriate, for tax purposes.
Enter information for the payment method that you want to use for this account, such as a credit or debit card, PayPal or bank account.
how to Grant Access to your Google Ads Account

1. Find the 10-digit Customer ID at the top right corner of your Ads Dashboard and share to us ([email protected]).

2. We'll then send invitation request to your ad account by using your 10 digit CID and email you when we have completed this. At this point you will probable get an email from Google asking you to accept this request, if you don't follow the steps below to confirm access.

3. Back to the Tools and settings icon on your dashboard top right menu, then under 'Setup', click "Access and security".


4. Select the Managers tab. Under 'Link request', you'll find our manager account that have requested to link to your account.

5. Under 'Actions', click "Accept".
Source: https://support.google.com/google-ads/answer/6366720?hl=en-AU
FURTHER RESOURCES
Common Troubleshooting from Google: https://support.google.com/accounts/answer/27441
Update Payment Method: https://support.google.com/google-ads/answer/2375375#add_FOP